If you are just beginning to cross stitch, you might think that all you need is just a needle and thread and you are good to go, right?
I know that is what I thought and continued to think for many years, but then I joined a Facebook group  for stitchers and boy, did I find out how much more there is to make my cross stitching so much more fun!
I am now admin of a great Facebook group called Cross Stitch Club…please come join us if you are not yet a member!  It's a great and caring community of stitchers from around the world and we have a lot of fun!
The More Light, The Better!
If you do not have a Ott Lite yet, I highly recommend getting one!  I love mine and it makes stitching so much more enjoyable.  I have this Ott adjustable floor lamp.
[amazon_link asins='B009XELXDW,B00G8O7KK0,B00YNZP9U4,B002CWPQ7Q' template='ProductCarousel' store='luv4crosstitc-20′ marketplace='US' link_id="]
If you are limited on your space and a desk lamp would work better.
[amazon_link asins='B00JWUJPLE,B01BHIRHB8,B004Q0CUXA,B00NF1295A,B01BCCRVG0′ template='ProductCarousel' store='luv4crosstitc-20′ marketplace='US' link_id="]
If you work on linen or evenweave, and especially on a smaller count, this neck magnifier is a great tool! (Yes, I have one of these too 🙂 )
[amazon_link asins='B01MZ6HZ99,B0011WYMF0,B0742CJJM9,B075WPW767,B0714D21TL,B075MHXC66′ template='ProductCarousel' store='luv4crosstitc-20′ marketplace='US' link_id="]
A Good Needle
All needles are NOT the same!  It took me a long time to figure that one out.  But since I discovered the existence of Pat's Favorite Needles, I will never buy anything else!  They are easy to thread and just simply glide through the fabric so easily.  I also have not had a single one break or bend.
Many other needles that either come with a kit or are just a very cheap needle bend or break very easily.  They can also be used for beading.  But don't take my word for it, try them out for yourself!  You can find them in the shop section of this website. You won't regret it!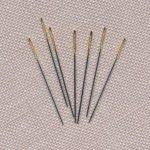 Tools To Keep From Losing Needles
My next recommdation is for a tool that is a must have!  Have you ever dropped a needle in your carpet and not been able to find it?  Have you later found it because it stabbed you or maybe one of your animals found it and ate it? Yes, I have heard of that happening and the results are not usually good..sometimes requires emergency surgery to have it removed.
I knocked over a container of pins off my sewing table and this little tool made it SO easier to pick them up and kept me from getting stabbed a hundred times! And I have used it to find a needle I dropped in the carpet..it truly is a life safer for finding needles!
This magnetic telescopic pick up tool with LED light is the perfect solution!  If you find it hard to bend over when you drop a needle, this tool also extends out so you don't have to bend over!
Needleminders
When you need to put your needle down, where do you put it?  In the arm of a chair or couch?  Have you forgotten it was there until you go to put your hand down on the arm and get stabbed?
The solution to keeping this from happening is a needleminder.  This is another must have! If you don't have one yet, get one! 🙂  Lucky for you, you are in just the right place to get the perfect one for you! I can make you one of whatever you want!  Do you have a favorite photo of a pet, grandchild or child?  Or maybe a favorite actor?
I can take that photo and make it into a needleminder so you don't lose or forget where you put your needle ever again!
Or is there something you just love like butterflies, cats, horses…anything at all? You tell me what you like and I will find something perfect just for you!  Here is one I made for a customer that loves butterflies.
to go to my Crafty Creation's page to find out how you can get a one of these pain saving beauties!