Been a while since you have attended a cross stitch retreat due to COVID 19?  Never attended a cross stitch retreat but want to?  Then you don't want to miss this retreat coming up this October in warm and sunny Myrtle Beach, SC!  I promise lots of fun and you will have the chance to make new friends and memories to last a lifetime.  If you are looking to take some simple classes to learn something new, we will have that too!  You will have fun and walk away from it looking forward to the next one!
I have a Facebook group set up to be able to provide details and to communicate with members attending so if you are on Facebook, please join the group by clicking on this link:  https://www.facebook.com/groups/2021cscOriginalsRetreat
I know not everyone is on Facebook and you do not have to be on Facebook to be able to attend the retreat.  All the details are as follows and if you have any questions, you can email me at faekuhn@gmail.com.
Sheraton Myrtle Beach Convention Center
2101 N Oak St
Myrtle Beach, SC 29577
Dates:
October 4th – Meet & Greet – 6pm – 10pm
October 5th, 6th and 7th – 7am – 11:59pm – stitching, games, classes, etc
$165 (+$5 if using Paypal or debit/credit card to cover processing fee) – $30 non-refundable deposit is required as a minimum to reserve your place at this event.
When you are ready to make your deposit or pay registration in full, send an email to crosstitchclubretreats@gmail.com to request an invoice. Please include your full name (as it is on Facebook) and the city and state that you are from in the body of the email. If you wish to pay by check or money order, please indicate that in the email and I will send you my mailing address.
If you choose to pay by check, I will still send you an invoice, but once I have received your check in the mail, I will mark the invoice as paid in full amount has been sent, or if it is a partial payment, I will credit the amount paid towards the invoice. When the invoice has been paid in full, it will be marked as such and it will serve as your receipt.I ask that payment be made in full no later than September 15, 2021. The registration cost covers the rental of our event space for 3 full days, the cost of hors d'oeuvres for meet and greet, and 2 other meals..most likely a lunch (or a brunch) on one day and dinner on the other. As we get closer to event time, I will be asking for input on the menu. I will also have a document in the files section for you to comment any special dietary needs you may have such as celiac, gluten intolerant, or any other allergies you may have as well as being a vegetarian. I will make every attempt to try to accommodate all dietary needs.
You will also get door prize tickets as well as a complimentary event tote bag.
I have made arrangements that we will have our meals in a separate place from where we stitch so that at no time will we have to completely clear out and clean up until the very end of our event.
Your registration cost includes a $30 non-refundable deposit. If you need to cancel for any reason and you paid more than the $30 deposit, if you request the refund prior to Wednesday, June 30, 2021, you will receive a full refund (minus the $30 non-refundable deposit).
If you request a refund between July 1 and August 31, 2021, you will receive a refund of ½ of what you have paid. No refunds will be given after September 1, 2021.
To get information on the room rates for our event and how you can make your reservation, you will need to join the Facebook group I mentioned above or send an email to me at faekuhn@gmail.com
Hotel Parking
If you are a guest staying at the hotel, you will get complimentary free parking. If you are local and not staying at the Sheraton, the parking fee per day is $8.
Unfortunately, the Sheraton does not have a free airport shuttle service. However, the airport is not very far from the hotel. An Uber would cost approx. $12-$14 one way from the airport to the hotel. If you will be flying into the Myrtle Beach airport, I will set up a document for you to post the day and time of arrival as well as your departure so that if there are others arriving close to the same time, you can share a ride or possibly I can get volunteers to come pick members up.
Vendors
Needleworker's Delight
Trulyn2stitching Designs
HLC Fabrics
Barefoot Needleart
Fabrics by Stephanie
Our guest designers will both be teaching classes.  The classes are optional and do cost a little extra and have to be signed up for in advance.  In order to sign up for any classes, you do need to have at least half of your registration fee paid first.  Once you have done that, please send an email to retreat.classes@gmail.com to indicate what class(es) you would like to sign up for.  I will then send you an invoice and I ask that you pay it immediately.  If you are signing up for the Mermaid or Wild Strawberries classes, please make sure you indicate if you prefer Aida or linen fabric. If you are signing up for Susan's Lil' Cutie class, please indicate if you want Aida or linen to stitch on for the band.  The cut-off to sign up for any classes will be Friday, September 3rd, 2021.
Classes by Susan GreeningDavis
Gadget Gal – Duration time: 45 minutes     Cost: $15/person
Come and share some time with Susan Greening Davis talking and showing how to use many different gadgets for your cross stitch! It is fun-filled with old and new items! Susan will have this gadgety gift for all that attend!
Lil' Cutie – Duration time: 2 hours   Cost: $45 (all supplies provided for this class)
You will love this one! Cross stitch on linen, or Aida banding. Yummy threads and you will learn -start to finish- how fun this is. The wooden sides were made specifically for Susan. When it is finished it will hold an altoid tin!
Classes by Dawn from Morning Glory Needleworks
Mermaid Fair  Class Duration – 2 hours    Cost: $30  Minimum participants needed:  5   Maximum Participants: 30
The verse on this lovely pincushion is taken from the poem The Mermaid by Alfred Lord Tennyson. During the half-day class students will learn 3 specialty stitches: Satin Stitch, Chain Stitch, and Mosaic Stitch. Optional instructions will be included to stitch the pincushion without using the specialty stitches. A complete alphabet for personalization will be included. There will also be an option to stitch "2021 Cross Stitch Club Retreat" instead of the Mermaid verse. The design area of this enchanting pincushion is 3" high X 5" wide. This design could also be framed or made into a needlebook. The pincushion will be stitched on a beautiful Caribbean Blue fabric in a choice of 28 count Jobelan or 14 count Jobelan Aida. Your kit includes detailed instructions, chart, Jobelan or Aida fabric, 4 shades of DMC Variations, Mill Hill Crystal Aqua beads, charm, backing fabric, and needle. Students should bring the usual stitching supplies such as scissors, laying tool, extra magnification, and lighting if needed.
Wild Strawberries Pincushion –   Class Duration – 3 hours    Cost – $30     Minimum participants needed:  5  Maximum Participants: 30
Just like in the wild, no two of the strawberries on this pincushion are alike. Each of the four strawberries will give the stitcher a small "taste" of a new stitch without being overwhelmed.  The strawberries will be stitched in Captive Cross, Arrowhead, Cross with Bar, and Two-Sided Italian stitches.
Students will also learn how to attach vintage buttons using Lazy Daisy and cross stitches.  The Wild Strawberries Pincushion will be stitched using DMC floss on your choice of 14 count cream Aida or 30 count Angel Hair linen from Weeks Dye Works. Kit includes linen/aida, 7 full skeins of DMC floss, fabric
for backing, vintage buttons, needle, and detailed instructions. Students should bring the usual stitching supplies such as scissors, laying tool, extra magnification, and lighting if needed.
Beginning Pulled Thread Pincushion    Class Duration – 2 hours     Cost:  $20  Minimum participants needed:  5  Maximum Participants: 30
This is a small sampler for those who wish to go beyond basic cross-stitch or would like to learn to stitch on linen. Pulled thread is just what the name implies – pulling the threads tight in each step of the stitch. The pulling creates holes that will give the piece a lacy look. This sampler will give the stitcher the very basics of pulled thread work before trying a more complicated piece. Stitches used are Algerian Eyelet, Nun's Stitch, Cross Stitch, Pulled Satin, and Eyelet. Complete directions are included for each stitch plus an alphabet for personalizing the piece. Your kit will include a light color linen, coordinating Sulky 12 wt. Cotton Petite thread, and backing fabric.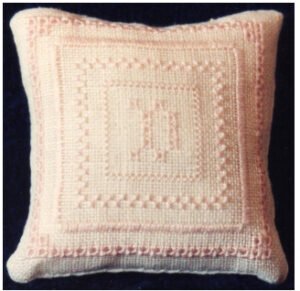 I look forward to seeing you all in October 2021 for a fun event!