First of all, thank you for taking the time to visit this page and see what it is all about.  Let me first give you a little history on what this project is and how it got started.  As I began to plan my first Cross Stitch Club retreat in 2015, I decided that I wanted to do a fundraiser and I decided to choose the Ronald McDonald House in Hershey, PA.
If you aren't familiar with what the Ronald McDonald House foundation does, their main focus is providing families with a place to stay when their children have to be put in a hospital far from home.  There are over 300 Ronald McDonald Houses and Family rooms throughout the world!
Early in 2015, I contacted the Hershey RMH and told them of my plans to have a fundraiser for their House and of course they were very appreciative and excited.  One of the designers that I asked to be a guest designer for this retreat was Ursula Michael.  If you are not familiar with her work, she does a lot of word designs. She takes a theme and then makes the shape of that theme with words that have to do with that theme.  This is one of my favorites that I used for making t-shirts for another fundraiser I did for the PA Wounded Warrior, Inc at our 2016 retreat: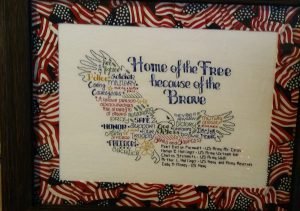 They make great gifts and so easy to personalize to just about anything you can think of.  One day I got the idea that it would be cool if Ursula could design a house with the words that describe what the Ronald McDonald house represents and present it to the Hershey RMH after the retreat to hang in their House to welcome all those that enter it.
Ursula agreed to do it providing I contacted the Ronald McDonald corporate office to make sure it was okay since the saying we wanted to use was a trademark of the Ronald McDonald House foundation.  I got the approval from corporate and Ursula designed the picture you see below and I stitched it, but of course, mine had Hershey, PA on it 🙂
With different raffles, prizes and selling of charts donated by the members that attended the retreat, we were able to raise a $2000 donation.  After the retreat, I took the donation and the stitched picture to the Hershey RMH house and presented it to them. Here is the picture from that day:
They were in such awe and admiration of the picture and just really loved it!  Because of the warmth and excitement with which this was received, I got another brilliant idea of how cool would it be to stitch one of these to be hung in every Ronald McDonald House and Family Room all over the world?
Ok, you are probably thinking "Is this woman nuts?" And my answer would probably be "Maybe a little".  LOL!  But I started off with posting my idea in Cross Stitch Club and it was met with such enthusiasm and excitement, that I created a group for stitchers to join that were willing to help me with this project. The amazing thing that happened from this project as well was that is raised a little bit more of an awareness of exactly what it is that the Ronald McDonald House does.
I know speaking for myself, I really didn't know what all they did before I embarked on this project.  I also did the ones for the 2 Philadelphia RMH's and I took 2 of my boys with me.  After we presented both of them and got tours of both places, I asked my older son if he had any clue before that what the Ronald McDonald House did (other than collect money at the restaurants..lol) and he was like "nope".  I said then said, "do you now?" And his answer was "yep".  LOL
It was very cool to expose my boys to something as special as this. Here is a picture of the one we presented at the Cherry House one in Philadelphia that was actually one of the first Ronald McDonald Houses opened back in 1974.  It was initially at a different location when first opened and then moved to this location which was actually a mansion donated by the owner that had built it.
This is quite an impressive and beautiful house! The face in the carving in the banister is the son of the man that built this house.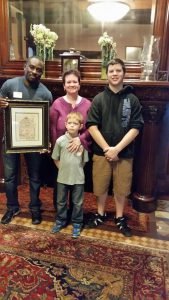 So now to the good part.  Since October of 2015 when this projected was started, we have done and presented to about 130 houses all over the world.  However, we still have MANY, MANY more to go as there are over 300 locations worldwide.
I went to the UK this past July on vacation with my 18-year-old son (the Marine with me in the picture on my About Me page).  I took him with me as a graduation present (lucky kid, huh? lol) While I was there, I also hosted a retreat to bring together about 90 stitchers from all over the UK and other places in Europe.  We spent a wonderful weekend getting to know each other and sharing our passion for this wonderful hobby.
One of the women in my cross stitch group on Facebook had heard they were opening an RMH in Cardiff and she knew I was coming to the UK. She asked if I wanted her to wait to present it so I could be there when she presented her piece to them.  I wasn't sure if I could pull it off, but I did!  We presented it to them the day before they were opening up to the public!  They were so excited to have something like this hanging in their lobby for everyone to see when first entering.
Now here it comes, I need HELP!
How can you help?
I am so glad you asked! My main focus at the moment is to try to get all of the ones in the US completed. Then if I have the help and motivation of others, tackle finishing the rest of the world! 🙂  As much as it is possible, I want to find ways to have them hand-delivered, but if it is such a remote spot that it's not possible, we can consider mailing them as long as they are packaged well enough and the House is aware of it coming.
If this sounds like something you are interested in helping with, please join my Facebook Group Ronald McDonald House SAL Group and then send me a private message and we can discuss what locations still need to be done.  If you have friends or family in an area that needs to be done, maybe you can stitch it and then send it to them to get framed and delivered…we will figure out something 🙂
Even if you think you are not a good stitcher or you are just a beginner, I promise you this is something you can do as it's very quick and easy.  Maybe you can even con…I mean teach…lol…another friend or family member to stitch and help you and thus share the joy of our wonderful craft!  There is no cost for this pattern and it will be provided to you once you join the group.  Ursula Michael was kind enough to allow me to have this pattern specifically for this project 🙂
If you have any questions or comments, please leave them below and I will answer them in a very timely manner.
Fae