Q Snap Frames
Another item that I wished I had known about when I first started stitching was Q snap frames!  These are awesome for avoiding the marks that hoops can leave and are easier to keep your fabric tight while stitching.  This is what they look like and you can get them here.  I can make any size q snap covers (aka q snap grime guards) with the fabric of your choice.  Click here  to see my gallery of fabrics you can choose from.  If you do not see one you like or have something specific in mind, please let me know and I can get it (or at least make every attempt possible).
The most popular size and easiest to work with is an 8×8, but there are other sizes.  For smaller projects like doing Christmas ornaments, a 6×6 frame is a great size. If you work on bigger projects, the other sizes are 11×11 and 17×17. What is really nice is that you can take these and build a frame that better suits you.
I personally find it a little harder to work on 11 x 11 (that is just me, you may find it perfect) .  I like to take the 8 x 8 and 11 x 11 and take one from each and make an 8 x 11 which I find a lot more comfortable to stitch on. You can do the same with the 11 x 11 and 17 x 17 and make an 11 x 17.
You can purchase these q snaps from our SHOP page.
If you haven't tried using one yet, I highly recommend trying one.  I think you will be happy you did.  If you are using a hoop currently, you might find it a little harder to hold these than a hoop because they are a bit thicker.  An the easy remedy for that is using a floor stand.
Floor Stands
I LOVE my floor stand.  It is not only easier not having to hold the frame in my hands, but I can use both hands to stitch which enables me to be able to stitch a little faster.
The stand I use and HIGHLY recommend is a Lowery floor stand. Unfortunately, they can only be bought from the UK, but the shipping is worth it!  I like to stitch in my recliner and any other stand I have ever tried using never worked well for that, but my Lowery stand is perfect!  It fits nicely underneath and allows me to stitch comfortably.  It is fully adjustable to any height you want and if you work on a rather large scroll frame, they make an extension for it as well.
Lowery Floor Stand 
The only place you can get these are from the UK so it might take you a couple weeks to get it, but I swear it's worth it.
If these are a little too much for your budget, then my next recommendation is the Edmunds Universal floor stand.  If you use scroll frames, then the Edmunds Stitch Master floor frame might be the better option. If your hands ever get to the point where they hurt after holding a frame or hoop, this is a great solution to that problem!
If you try the q snap frames and find that you don't like them, you can still use either of these frames to hold a hoop as well. They really are a great investment!
Ok, so now that I have given you a few tips on the Q snap frames and floor stands, let me show you the accessory for adding a bit of fun and color to enjoy your stitching with!  I can make any size q snap cover (also known as grime guards), hoop cover or scroll rod cover.  These covers are meant to protect your fabric from the dirt and the oils that your hands can leave.
Even if you always wash your hands before stitching, your hands still contain oils that can get on and discolor your fabric.  These covers keep that from happening. Here are a few I have done for other customers.  If you don't want anything bright or distracting, I can do them in just plain fabric to just serve the purpose of keeping your material as clean as possible.
Q snap covers
Prices for Q Snap Covers – these are the standard sizes, but I can custom make them to any size and any width.  If you do bigger projects that have a lot of material, I can make them wide enough to hold that excess material. Click HERE to see a gallery of most of the fabrics I have, but this is not all of them.   If you do not see one you like or have something specific in mind, please let me know and I can get it (or at least make every attempt possible).
4×4 – $5
6×6 – $6
8×8 – $7
11 x 8 – $8
11 x 11 – $9
11 x 17 – $10
17×17 – $11
Scroll Rod Covers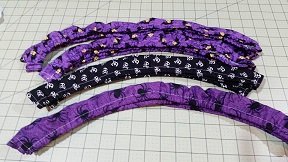 Prices for Scroll Rod Covers:
10-14 inches – $6
15-18 inches – $7
19-24 inches – $9
25-28 inches – $11
29-30 inches – $13
over 30 inches – $16
Hoop Covers
You probably never thought about having a cover on your hoop while stitching, but you should to protect the material from oils and dirt from your hands. Hoop covers can be made for any size hoop.  Just let me know the size hoop you are using and I can quote you a price.
To place an order you can either go to my Facebook Group Fae's Crafty Creations and request to join or email me your request at fae@luv4crosstitch.com. My recommendation would be to join my group. This way you can see more of what I have made for previous customers as well as pictures of fabrics that I have not had the chance to upload to my gallery yet.
I am currently working on my website and eventually, you will be able to place your orders there directly and get reward points for towards free items.  It is just taking a bit of time because I have SO much fabric.