Come join me and lots of fellow stitchers in Nashville, TN for a rockin' cross stitch retreat!
Event Details
Where: Hilton Nashville Airport – 2200 Elm Hill Pike, Nashville, TN
When: August 9th-11th, 2019 (there will also be a Meet and Greet on the evening of Aug 8th, 2019 and the event will end at 12 Noon on Sunday, Aug 11th, 2019)
Registration cost – $170 ($40 of this is a non-refundable deposit)- this covers your entrance to the event for all 3 days as well as a lunch buffet on Friday and a dinner buffet on Saturday evening.
Refund Policy – Full refunds (minus the $40 deposit) can only be given up through June 1st, 2019. Any cancellations between June 2nd, 2019 and July 4th, 2019 will only be refunded for half the registration cost. Any cancellations made after July 4th, 2019 are not eligible for any refund.
If you think you will be able to attend and can't pay the full registration right away, you can make partial payments to me of at least $40 to reserve your spot with the remainder of the payment being due no later than July 4th, 2019. Please feel free to PM me (Fae Kuhn) to discuss this or send me an email to fae@luv4crosstitch.com.
Cost of hotel rooms: $179/night (does not include any breakfast) – you will be responsible for booking your own rooms.  A special online booking link has been set up for our group and you will have access to that link when you join the 2019 Cross Stitch Retreat – Nashville, TN Facebook group (or you can email me at fae@luv4crosstitch.com if you are not on FB).  You will need a valid credit card to hold your reservation, but you will not be charged until checkout.
Guest Designers
Erica Michaels Designs
Susan GreeningDavis – Still Stitching
Janis Note – Noteworthy Needle
Bonnie Woomer – Nebby Needle
Vendors
Needleworkers Delight aka Silkweavers (Fabric vendor)
Trulyn2stitching Designs
Bushmountain Stitchery
Under The Sea Fabrics
Classes:
Turn Turn – taught by Janis Note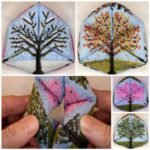 Pumpkin Hole Punch – taught by Janis Note
You bring your own pumpkin and Janis will be providing a lovely Fall pattern and showing you how to punch the holes in the pumpkin where you can then stitch the design onto the pumpkin.
Very Berry Finishing – taught by  Linda Stolz (Erica Michaels Designs)
Berries, berries, everywhere from Erica Michaels Designs! One of the easiest "smalls" to finish, we'll talk about the differences in stitching and finishing the silk versus linen berries, review basic assembly, plus lots of show-and-tell with a variety of fun top treatments. You'll get an exclusive linen berry chart with a Nashville theme – plus everything you need to make your own custom wool pins. No pre-class stitching necessary.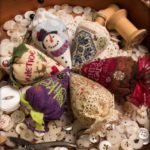 Sampler Book Finishing – taught by Linda Stolz (Erica Michael Designs)
Do you have your copy of The Sampler Book – perhaps from several years ago, or just recently? Are you working on these pages? Just getting started? Even if you have only some of this project stitched, you can benefit from this workshop!  If you don't have The Sampler Book, you can get it from most retailers.
Silk Gauze 101 – Create! – taught by Linda Stolz (Erica Michaels Designs)
This adorable little hornbook is embellished with a bit of stitching on 40ct silk gauze, combined with little bits and pieces to create your own one-of-a-kind miniature collage. Whether you are a beginner or experienced with gauze, you will find it easy to work this quick design. A companion design for 30ct gauze is also included, so you can choose which you prefer for your class time – both designs are small and ideal for a quick finish!
So Let's Finish the Stitching!!
Susan Greening Davis has been a creator of "self-finishing" projects, WITHOUT A SEWING MACHINE, for over 45 years!
Simple, slick and professional your finishing will be!
Susan has written a small booklet full of tips and info (included in class). She has created a checklist (included in class) of what you need on hand, AND a special "fold-up" bucket (included in class) that you will use to keep your "stuff" together! This cute red bucket has a piece of banding that you will stitch "my finishing bucket" and secure it on…..NO safety pins anymore!
Come join Susan for the class that you will USE over and over and over and over and love your finishing! ****always a few surprises, too!
I started hosting these retreats because of the members of the group Cross Stitch Club Originals of which I am the main admin. If you are not already a member and would like to attend this retreat, please join here:
https://www.facebook.com/groups/CrossStitchClubOriginals/
and then also join the group I specifically set up for this retreat:
https://www.facebook.com/groups/186674052081055/
I know it may seem ridiculous to have to join 2 groups to attend this retreat, but one of the things that makes my retreats so much fun is the fact that because we interact as a group online, when it comes to being in a room full of 150-200 people, you don't walk in feeling like a stranger and not knowing anyone.
It does make a difference and just makes it so much more fun. And because so much planning goes into these retreats, having a group specifically for the retreat helps me to keep organized and make it so great.
If you are not on Facebook, but would like to attend the retreat, please send me an email at fae@luv4crosstitch.com and I can get you signed up.
Based on attendance of prior years and people returning, do not wait too long to reserve a spot with at least partial payment. The attendance for previous retreats has been 150-200. Our maximum capacity for this event is 200  and so far there are approximately 128 spots already reserved. So don't delay and get left out!  I hope to see you there! Any questions, please feel free to send Fae Kuhn a PM or email at fae@luv4crosstitch.com.
Also, plans for the Cross Stitch Club retreat for 2020 are underway for Reno, NV! Join this group to get those details!
2020 Cross Stitch Club Retreat – Reno, NV
To see the fun that was had at previous retreats, check out the links below:
2018 Cross Stitch Club Retreat Recap
Recap of 2015, 2016 and 2017 Cross Stitch Club Retreats