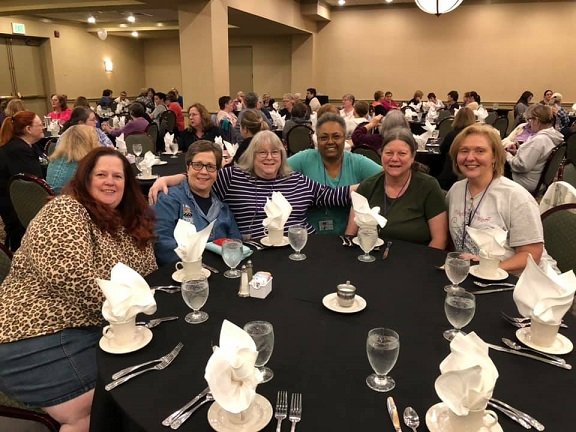 2018 Cross Stitch Club Retreat Recap – Best Cross Stitch Retreats Around!
I will start this off by apologizing in advance for the "novel" I have written here, but there is JUST so much to say! It is my hopes that I am able to keep you reading the whole way through and not end up like this! If you read to the end, you will see why Cross Stitch Club retreats are the best!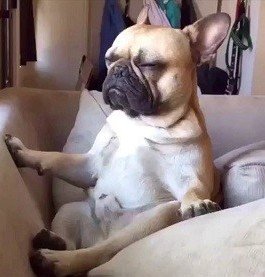 But before I go into the details of the 2018 retreat, I want to tell you just a little about how I got started doing these cross stitch retreats and a few words about the previous ones.
Before I discovered cross stitch groups on Facebook back in 2014, I never knew such a thing existed as cross stitch retreats. It turned out there was a LOT of things I didn't know about. I didn't know anything about any designers or about having "stash" or having multiple projects going at the same time (otherwise known as WIPs – Work In Progress).
My mom taught me to stitch at the age of 14. From that age up until 2014 I only bought kits and did one at a time. But that all changed when I found Facebook cross stitch groups. Especially when I became the admin of one. I won't add on to what is already a long story by telling how that happened, but I did become admin of Cross Stitch Club and that is when my real cross stitch addiction/obsession began! LOL
Not long after I became an admin of Cross Stitch Club on Facebook, I got this idea in my head about how cool it would be to meet others in person that share this passion and that I interact with on a daily basis through the group. I said to my husband one night, "You might think I am crazy, but I am thinking of hosting a cross stitch retreat". He looked at me and said, "Yup, you are crazy". LOL!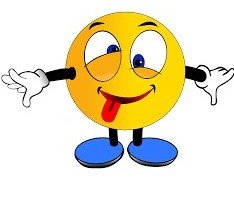 So I presented the idea in the group and it was met with a lot of enthusiasm and a lot of members said "YES, please!". So I started looking into it and soon the plans were in the works for the 2015 Cross Stitch Club retreat! Now bear in mind I never even knew cross stitch retreats were a thing, let alone planning one!
But I have never been one to back down from any challenge (and this was definitely a challenge as I would soon find out!).
So the time finally came after about a year and a half of planning and anticipation. It was held at the Grantville, PA Holiday Inn and we had about 175 in attendance. Our guest designers were Ursula Michael, Joan Elliott and Jean Farish. These are all designers that have been in the industry a very long time and are all absolutely amazing designers and people.
You can check out pictures and posts by going to this Facebook group (it's a public group so you do not need to join it to check it out) 2015 Cross Stitch Club Retreat
At the time of the 2015 retreat, I didn't know it would become a yearly thing. But the first one was such a success and everyone had so much fun, it was something that just had to continue on! So the plans for the 2016 retreat began!
This one was held at the Red Lion Hotel in Harrisburg, PA and we had about 150 in attendance. Our guest designers were Sue Hillis, Beth Seal, and Jean Farish. Our event was the weekend right before Halloween so we had a Halloween costume party that Saturday evening. That was so much fun! You can check out the pictures and posts from that retreat here: 2016 Cross Stitch Club Retreat.
The 2017 Cross Stitch Club retreat was held in Birmingham, UK and we had an attendance of about 90. Yes, I really did go across the pond to host a retreat! LOL The planning for this one started back in 2014…the anticipation for that one was torture! But it was well worth it. I took my middle son with me as a high school graduation present and we made a vacation out of it and traveled around a bit before and after the retreat. I cannot wait to go back again soon! This was the crew at this epic event!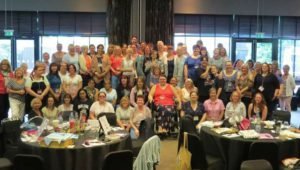 Our guest designers for the 2017 UK Retreat were Joan Elliott, Ursula Michael (yes, they really followed me over from the US to be at this retreat!), Faye Whittaker and Micheal Powell.
2018 Cross Stitch Club Retreat
So now let me take you on a virtual journey of our 2018 Cross Stitch Club Retreat event and maybe inspire you to come join us in Nashville, TN in August 2019 or one somewhere else in the future (just an FYI, I am contemplating 2020 to be in San Diego, CA! 🙂 )
It was held at the Red Lion Hotel in Harrisburg, PA and was attended by about 190 or so people from all over the US and even a couple other countries! We had cross stitchers from Canada, UK and Germany travel to join us at this event.
We had fabulous designers and vendors with so much to offer that most attendee's wallets were screaming "NO MORE PLEASE" by the time it was all said and done! LOL You can see more pictures and posts of the fun we had here.
The Designers
Our fabulous designers consisted of Heather Maraldo of One of a Kind Baby Designs, Janis Noteworthy of Noteworthy Needle, Bonnie Woomer of Nebby Needle, Becky Noland of Lucy Beam, and last but not least, Pat Carson of Gloria and Pat Designs. I can't say enough about how great it was having all these talented designers at this event, but I am going to try 🙂
Heather Maraldo
I first had the pleasure of meeting Heather at a small retreat in Allentown, PA back in November 2017. It wasn't long after that when I reached out to her about being a guest designer at the 2018 Cross Stitch Club retreat in Harrisburg, PA and she graciously accepted my invitation.
She has many great designs that you can find at oneofakindbabydesign.com. But don't let the name of her business fool you, she does much more than just baby designs. This is one of her designs that I did for my oldest son's wedding for their ring bearer pillow.
Heather takes the time to personalize her patterns when you order them with information you give her so that it is all charted for you and you don't have to figure out the spacing yourself. Great time saver and great customer service! A little while back I had written an article on Heather so if you would like to learn more about her and see more of her designs, please feel free to take a few minutes and read about her here.
This is Heather hard at work at her table at the retreat!
Becky Noland – Lucy Beam
Lucy Beam designs bring delight to the senses. She has a wide variety of fun projects to choose from. You may find a traditional sampler sharing space with a bunny rabbit or a jack o lantern alongside a sweet and festive Christmas design!
Becky herself is pretty entertaining and enjoys getting to know the ladies who come to shop at her table. She loves playing with linen, threads and long walks to the coffee maker.
You can browse through her designs here in her Etsy shop.
Here is a picture of some of her designs displayed on her table at the retreat. I was gifted the Ghostlys Guard pattern by a fellow stitcher and I look forward to stitching it sometime hopefully in the near future!
Becky's shared a little of her journey to designing that I would like to now share with you.
"My grandmother Lucy Beam was an amazing woman who could put her hand to anything and excel at it. She taught me how to embroider and hand sew when I was a little girl.
I have always loved working with thread, fabric, yarn, anything I could make stick together. My grandmother did too. She would take me to the local garment factory in their tiny town of Wewoka Oklahoma, they sewed various and sundry things there.
We would sneak behind the building to where the dumpsters were. "Now Becky, grab that pile over there" she would whisper as she grabbed my ankles and lowered me headfirst into the depths. I was a small child and ideal for this sort of situation. Those are some of my favorite memories of her.
I had hoped Becky could join us again next year in Nashville, but unfortunately she already has prior engagements. But I hope to one day cross paths again with this lovely designer!
Oh…just one more thing to share about Becky…her tattoo!! Pretty awesome…almost makes me want something like it! LOL
Brian Jackins
This designer is a pretty interesting story. First, he is my business partner in our business Luv4crosstitch. It was pure fate that brought us together and if interested in hearing how that came about, you can read the About Us to read more on that.
Brian has charted and designed many great designs for Dimensions going back as far as the 80s. But in the last couple of years, they have not had much work for him. He loved the work he did and often thought about trying to strike out on his own. However, Brian is not one to hang out on social media and really has no desire to do so.
In today's world, if you aren't on some sort of social media, you aren't going very far! LOL Now me on the other hand, I LIVE on Facebook! LOL I always wanted to be part of the cross stitch designing world, but I don't have the artistic talent it really takes to bring out great designs.
Brian has the artistic talent, I have the social media marketing skills so we are a match made in heaven! When I asked Brian to attend and help me at the retreat, he was not inclined to say yes right away as it was a bit out of his comfort zone. But I talked him into it and guess what? I think he would say he enjoyed himself! LOL
Working for Dimensions, he only got to see really one side of cross stitch. He never got to see it from a cross stitcher's perspective. By attending the retreat, he got to mingle and see all the great pieces everyone was working on and he really enjoyed talking to many people.
I want to share just two designs he has done since our partnership began. The first one is BOO Butterfly. What you say? How can a butterfly be associated with Halloween?? Well Brian made that happen! Even those that aren't a fan of stitching things Halloween will most likely find something they like about this one!
It's so different and creative. Not long ago, this pattern was picked up by Everythingcrosstitch.com and this is one of the comments that was posted by a shopper:
"Wow, I didn't realize how cute this pattern is! When I first saw a butterfly on the Halloween sale list, I sort of shook my head thinking what does a butterfly have to do with Halloween. I didn't even bother to look closely at it. Thank you for bringing to my attention the neat fun stuff that this pattern includes. The cemetery around the border is just adorable! My sister loves butterflies so maybe I will do this one for her someday. I think I will put it on my wishlist or maybe even my cart!"
BOO Butterfly, along with a few other great designs, can be found here on our website in the SHOP section.
It is our intentions to do a monthly series of these butterflies as well as some other holidays.
The other design I want to share quick is the design he created to go on the goodie tote bags all attendees received. This design was a true test of our partnership as we burnt the midnight oil many nights right before the retreat getting it ready! LOL
But we made it through with partnership intact! We named this design Belles Pensees, which is French for Beautiful Thoughts or also can mean Beautiful Pansies.
We have a Facebook group called Luv 4 Cross Stitch that we would like to invite you to come join as we are constantly asking for opinions and thoughts of designs we are working on as well as ideas on new designs you would like to see Brian bring to life for your stitching pleasure. Periodically, we do giveaways and other fun stuff so we hope you will come join us!
There was one more special designer in attendance, but that one I am saving for further on in the story as it's a monumental one and have much to say about her!
The Vendors
The vendors we had were phenomenal! We literally had a little cross stitch mall! And almost all of them are going to be vending at the Nashville, TN retreat in August 2019. So if you are already signed up to attend, hope you are saving those pennies!
Trulyn2stitching Designs
Barbara Deets of Trulyn2stitching Designs has been a vendor for my last 2 US retreats and she is simply wonderful! She makes qsnap covers, project bags and many other great cross stitch goodies! She is from Tennessee so she is thrilled that she won't have to travel far for our next retreat!
BFF Pouches and Bags
BFF Pouches and Bags is a business run by 2 best friends, Peggy Bowe and Roberta Dubois. They have been vendors at all 3 of the US retreats I have hosted and make the cutest project bags and are wonderful ladies! Unfortunately they will not be following me to Tennessee…they will be missed!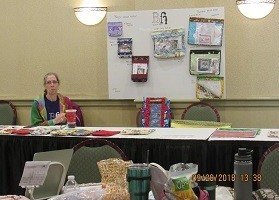 Under the Sea Fabrics
Under the Sea Fabrics is a business owned by Leslie Fetty LaFleur. She was a vendor at my very first US retreat in 2015 and we were so happy to have her back! Look at all the pretties she had to offer! She will be joining us again in Nashville for the next retreat 🙂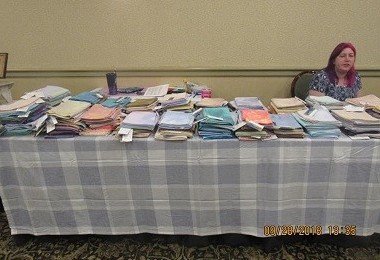 Nebby Needle and Noteworthy Needle
Bonnie Woomer from Nebby Needle and Janis Note tag teamed as vendors as the NN Girls. Janis spent most of her time drilling pumpkins from her BYOP designs while Bonnie handled the sales.
These pumpkins are so darn cute! For the 2019 Nashville retreat, Janis and Bonnie will be joining us again and Janis will be teaching a class using Fall designs and showing class attendees how to punch the design in their own pumpkins and then stitch them up! Sounds like a fun class!
These are a couple of the pumpkins finished by members that attended this retreat:
Bushmoutain Stitchery
Bushmountain Stitchery is owned and operated by Gary & Maeann Bush. They just recently had their grand opening of their brick and mortar shop in Massachusetts. Their booth put a hurting on a lot of wallets! As you can see from the picture, they pretty much brought an entire store! LOL They also had the help of their 2 son's and daughter-in-law so it became a family affair. It was truly a pleasure having them all join us and we look forward to seeing them again in Nashville (their one son sings and plays guitar in a band so I am trying to talk him into providing some entertainment for us! LOL)

Needleworker's Delight aka Silkweavers
Needleworker's Delight is owned and operated by Kevin and Jim Kornecki and their shop is in Metuchen, NJ (I have a visit planned to it in a couple weeks and I can't wait to check it out!). This was the 2nd Cross Stitch Club retreat that they have been a vendor (and will be joining us again in Nashville!)
Their booth is another one that I am sure had many people's wallets screaming at them saying "NO MORE PLEASE!". LOL Kevin and Jim are the sweetest guys and is always a pleasure working with them!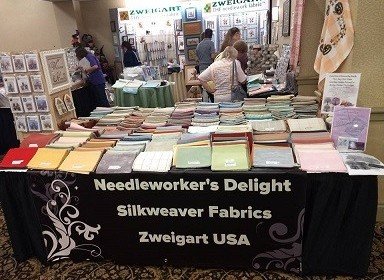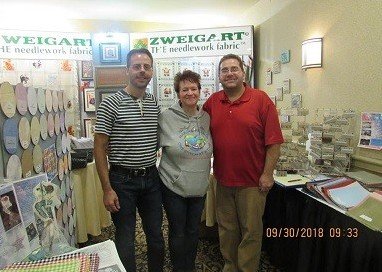 The Retirement of a Legend
Earlier I mentioned about another special guest designer. That person was Pat Carson of Designs by Gloria & Pat! Back in late 2017, someone had mentioned to be about asking Pat to consider being a guest designer so I reached out to her. At first, she wasn't sure of her schedule as she was announcing her retirement and had a lot of things scheduled for 2017, but to check back with her in a couple months.
So in early 2018, I followed up again with Pat and she still wasn't sure. So I posted in Cross Stitch Club as well as in Pat's group for help on convincing her to attend. That worked! She agreed to be a guest designer and to also teach a class.
Then I found out she was retiring after being in the cross stitch industry for over 45 years and that our event would be her last big event. The wheels began to turn and I started thinking "Oh what fun I can have sending this legend off to her retirement in style!"
Pat is best known for being the designer of Precious Moments and Cherished Teddies. I want to share this link to a wonderful story written a few years back about Pat:
https://starstitchblog.wordpress.com/2014/11/
Not long after I announced to the group that Pat was going to be one of our guest designers, a member contacted me and told me that every year Pat does a collection of stitched Christmas ornaments that she then donates to families that suffer tragedies of one kind or another and lose all their belongings.
So I began to message everyone I knew was attending to ask for volunteers to stitch 1 or more ornaments to surprise Pat with at the retreat. We ended up presenting Pat with 129 ornaments!
Another surprise we had for Pat was a Precious Moments scrapbook put together by another member that contained well wishes written to Pat by retreat attendees.
Pat continues to do a lot of charity work with feeding the hungry and many other great charity work! She holds auctions and sells items to help families at Christmas that are less fortunate. She put together a huge basket that was raffled off at the retreat that raised just a bit over $500 with the help of all the great donations by attendees. The funds from this basket went towards helping feed the hungry.
There is so much more I could say, but I really am trying to keep this from being a true novel! LOL I will end this section by saying that it was a true blessing to get to meet and get to know Pat!
The Classes, Fun Games and Surprises
Two classes that we had at this retreat were Stitching on Linen Tips and Techniques taught by Pat Carson and Framing Using Lacing Technique taught by Gary Bush Sr of Bushmountain Stitchery. These were two great classes and a lot of great information was shared and much learned!
In the evenings, we played a couple games. On Friday night we played Bingo with some great prizes and then on Saturday we played a Saran Wrap Ball game. This one was a LOT of fun! Check out the video below to see the great fun had in this game!
So I mentioned about surprises in the heading of this section. Since becoming admin of Cross Stitch Club, this group has become like one big extended family to me. It is for this reason that I really LOVE hosting these events and bringing us all together for a weekend of fun, stitching, and companionship!
Well I had an unfortunate series of events happen to me during the retreat. It started with my car not starting on Friday evening. But figured it wasn't a big deal, that thought maybe it was just my battery. So the next morning, a fellow stitcher gave my car a jump and I headed out to get a new battery. This fellow stitcher insisted on following me over, even though I told him it was not necessary.
Well good thing he did! I started hearing a very bad noise underneath the front of my car so I pulled over to the side of the road. And that is where I remained for over an hour and a half waiting for a tow truck! My car was then towed to a nearby auto shop.
Needless to say I was not happy. But was definitely thankful to the member of our group that insisted on following me as he stayed there, helped to keep me calm and was able to help me run other errands and get me back to the retreat!
Well here is where the surprise comes in. Later that afternoon after we did the raffles, Pat Carson comes over and take the mic from me and proceeds to say they had a few surprises for me. Turns out word got around about what happened to me and someone decided to start a collection from the other attendees to help me with the cost of the repairs for my car. OMG…talk about a flood gate of tears! They collected $564 to give me towards these repairs. I was speechless!
I was astounded at the generosity of this group. But there is more! So then another member comes up and takes the mic and proceeds to present me with this tree of life pendant, and as you can tell by my face, the emotions were almost too much!
But we still weren't done yet! Yet another member comes over and hands me a bag. A few members went in together on a few gifts for me. But first let me explain the significance of the gifts. Remember when I said this group is like family to me? Also remember when I said that we had a Halloween party at the 2016 retreat?
Well… I also got married at that retreat and it was a costume wedding to keep in tune with Halloween party that had already been planned. I had always thought that it would be so awesome to have a Halloween wedding..and my boyfriend (now husband) had been talking about getting married.
Then one day I got to thinking of how cool it would be to have this group of people be witnesses and help me celebrate something so special. I ran the idea past a couple of my close friends in the group and they thought it was a great idea!
So I ran the idea past my boyfriend and he was okay with it. So the planning of a retreat AND wedding began (when I told the hotel coordinator about it, she said that was the first time she's ever planned an event within an event! LOL).
I did not announce it to everyone and only told a select few because I did not want anyone to think anything was expected. The only thing I wanted was the presence of those I hold very dear to my heart..which is definitely this group!
So I was Cinderella and I married my Prince Charming 🙂 So that is why a member made this for me.
There were a few other little items like Cinderella needle minders, scissor fob with matching frogger and some Cinderella fabric (fabric is my other obsession…LOL)
The amount of love I felt at that very moment was very overwhelming. But you know that saying, "what comes around, goes around"? Well, that is so true. I do show a lot of love myself to this group and have helped people out in different ways and do so whenever I can, but I can't say I EVER expected to get it back this much! 🙂 Cross stitchers are awesome people!!
Friendships Formed and More Fun in Store
While I do put A LOT of work into these retreats all year long, I have not done everything alone.  These would not be as successful as they have been without the help of many wonderful members!
I am going to wrap this up with showing some fun pictures where you can see the kind of friendships that come from these retreats.
So are you ready to come join in on the fun at the next one? If you are not yet a member of Cross Stitch Club, please come join us and then come join the 2019 Cross Stitch Club Retreat- Nashville, TN and get signed up for what will most certainly be another epic event!
One more thing, I would love to hear any comments or questions you may have about anything I talked about here.  Also, if you attended this retreat or any of the other Cross Stitch Club retreats over the past 4 years, could you please comment either a favorite memory or what you liked most about it?  Thank you!